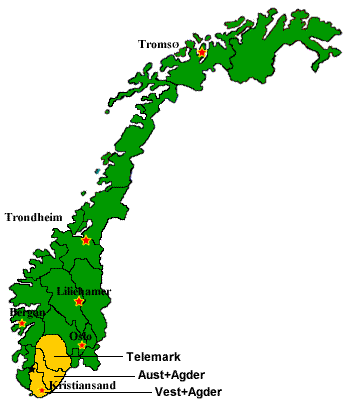 Northern Norway is comprised of the three northernmost counties in Norway: Nordland, Troms and Finnmark.
The landscape ranges from alpine mountains and narrow fjords to endless wilderness and tundra. The way of living in Northern Norway has been shaped by the annual contrasts in light, from Midnight sun in the summer to Northern lights in the winter.
This is the home of the Saami, an indigenous population found in four different countries and with its own language and culture. The major cities in the region are Bødo, Tromsø, Mo i Rana, Narvik and Vadsø. There are many outstanding places to stay while visiting Northern Norway.
Click on a county ( below) to find Norway hotels, inns, hostels and all other types of lodging and accommodations in that area.