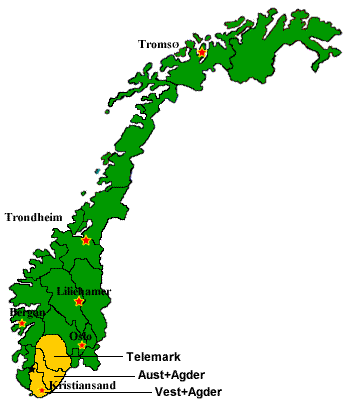 Southern Norway
Southern Norway lies along the south-eastern coast of the country. It is the warmest part of Norway and is a popular location for summer activities such as sailing, fishing and swimming on the white sand beaches.
Southern Norway is comprised of the three counties of Aust-Agder, Vest-Agder and Telemark. Kristiansand, with 75,280 people, is a charming city and the largest in Southern Norway.
Along the coast line are picturesque towns such as Lillesand, Tvedesand and Risor.
The inland areas of Telemark are extremely scenic and is known for its well preserved rural heritage. The other major cities in the region are Arendal and Skien/Porsgrunn.
There are many superb places to stay while visiting Southern Norway.