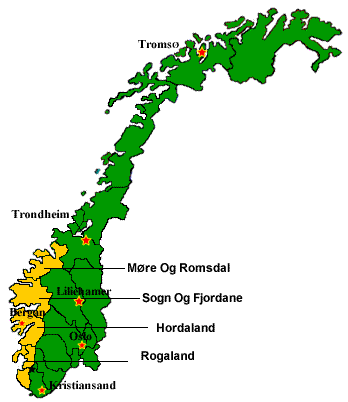 Western Norway
Western Norway, with its dramatic fjords and mountains, is rated by National Geographic as one of the world's greatest unspoiled travel destinations.
Western Norway is comprised of the counties of Møre & Romsdal, Sogn & Fjordane, Hordaland and Rogaland.
The largest city in the region is Bergen, a UNESCO World Heritage City and which was named the European City of Culture in 2000. In addition to exploring the fjords and visiting historic Bergen there is much more to discover in Western Norway. From hiking in the mountains to listening to a concert in Edvard Grieg's own home and from walking on a glacier to touring the 850 year old stave church at Urnes, Western Norway is the ideal tourist spot.
The other major cities in in Western Norway are Stavanger, Haugesund, Ølesund, Molde and Kristiansund. There are many fantastic places to stay while visiting Western Norway.