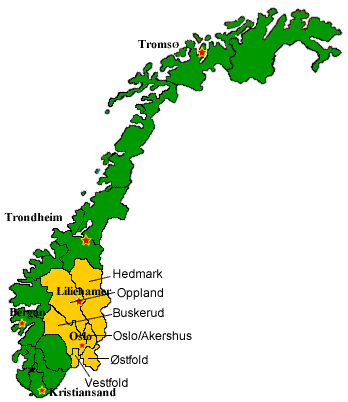 Eastern Norway
Eastern Norway is often the visitor's first exposure to the country after flying into Gardermoen airport just outside of Oslo, a bustling European city filled with history and culture. From sailing on the fjords to visiting a Viking museum and from visiting 800 year old churches to enjoying nightlife in Oslo, the countries capital, the options for the visitor are endless.
Eastern Norway is comprised of the six counties of Oslo, Akershus, Østfold, Vestfold, Buskerud, Hedmark and Oppland. Oslo, with a population of 520,000, is the focal point of the region. Eastern Norway is the most populated region of the country and has a huge variety of cultural and recreation activities to offer to tourists and residents alike. There many fantastic places to stay while visiting Eastern Norway.
Vestfold is the second smallest county in Norway but has the largest population per square mile.
The city is over one thousand years old but was rebuilt after a fire in 1624, and renamed Christiania in honor of the Danish king.
Oppland consists of broad farmland, Lake Mjøsa, in the south to the Rondane, Dovre and Jotunheimen mountain ranges in the north.